Men's Guide to Engagement Rings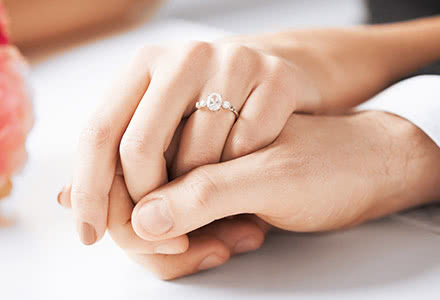 A Complete Guide to Choosing the Perfect Engagement Ring
First of all you lucky guys, congratulations on starting your search for an engagement ring! We are excited to help you during this special time. We may not know your girlfriend personally, but we're pretty sure she is going to be happy when you pop the question.

One of the most important factors in creating the perfect proposal is the ring. Yes, we may sell engagement rings, but we want to help you choose the perfect one. We are here to help with this guide to engagement rings. This will help you get a ring she'll love and assist you in getting the best for your money.
Budget Before You Shop

Money plays a huge role in the decision you are about to make. While the value of an engagement ring is more the meaning behind it, rather than the price tag, you still need to shop for something affordable. Determining your budget early can help you narrow down your options quickly, especially when it comes to ring design, diamond carat weight and shape.

When it comes to how much money you should spend, there aren't a lot of rules any more. You should spend a comfortable amount that allows you to purchase something impressive. Our team of experts can help you identify a high quality diamond or gemstone that suits your needs. If money is a factor, we can help you explore other substitutes. We also offer payment options including layaway, financing, and bank wire to make ring buying more affordable.


Choosing a Style

We all know fashion is forever changing. This can make choosing an engagement ring style one of the hardest parts of shopping. As a starting point, try to think of the types of accessories and clothing your significant other wears. This can help provide a few clues regarding their sense of style.
Much like clothing, rings can be classic, glamorous, nature-inspired, modern, or anything in between. Your partner may even drop a few hints if you have ever discussed the idea of getting married. They might even have a Pinterest board with a few pictures of jewelry or engagement photos saved.


Choosing an Engagement Ring Setting

Here are a few of the most popular engagement ring settings today.

Waverly Diamond Engagement Ring Settings
This is a little different than a typical circle. The setting surrounds the large center gem with smaller scalloped diamonds. The band also features a complete row of diamonds. The smaller diamonds are designed to draw attention to the center, while adding a little extra sparkle.
Petite Twisted Vine Diamond Engagement Ring Settings
The petite twisted ring is inspired by nature and features a strand of pavé diamonds trailing from the center. The design draws attention to the bigger diamond or gemstone and is accented by the precious metal of your choice.
Ballad Diamond Engagement Ring Settings
The ballad style is a classic look accented by scalloped pavé diamonds. These diamonds extend halfway around the band to offer a sophisticated look.
Choosing the Right Gemstone
While many people immediately choose diamonds for their engagement rings, there are actually several other options available.
The classic engagement style is a center diamond. Many buyers choose to look for something a little more unique that matches their girlfriend's individual sense of style. Diamonds are chosen for engagement rings about 90-percent of the time. Sapphires are the leading second choice for engagement rings. If your significant other wants something a little more unique, we can help you, however, statistically, she is probably looking for a diamond or sapphire.

Sapphires and diamonds are among the highest ranking on the Mohs scale for hardness. That means they will withstand the test of time and are perfect for everyday wear. If you are budget conscious, sapphires tend to be less expensive than diamonds, therefore you can usually get a larger sized sapphire cheaper than a diamond. Keep in mind that while most sapphires are blue, they come in a wide range of colors including yellow, white, and pink.

What are the Four Cs?
If you have been doing some research already, you may have heard of the four Cs and how they affect price. The four Cs aren't just used for pricing, they are used for classifying the quality of a diamond. The Cs stand for carat, clarity, cut, and color. To get the ideal diamond, you want to find a good balance between these and your price range. Here is a brief overview of each C.

Cut: Cut doesn't just mean shape. The cut of a diamond refers to its overall beauty and its ability to refract and reflect the light. Cuts have a very specific set of angles and proportions that help show off the diamond in the light.
Color: Diamonds with less color tend to be rarer and are seen as more desirable. Each diamond has a little color that is caused by very small amounts of nitrogen that were present naturally when the diamond formed. The diamond color scale starts at D (colorless), and as a diamond goes past the letter M in color, it is considered Fancy Yellow.
Clarity: Some people confuse clarity and color. Clarity refers to the presence of blemishes or inclusions within the diamond that affect value and appearance. The inclusions are not an overall color difference; they can be tiny cracks, traces of foreign materials, or cloudy spots. Many inclusions are actually microscopic diamonds! These tiny gems were absorbed by the bigger crystal before it made its way to the surface.

The final clarity grade is determined by quantity, color, size, location, visibility, and orientation of the inclusions. Diamonds that have zero or very few inclusions are the most valuable.

Carat: Carat measures overall weight. Carat is probably the most obvious factor when comparing diamonds.

Selecting the Perfect Diamond Shape

There are ten standard shapes into which diamonds are cut. The most common shape is round, and this makes up about 75% of diamonds on the market. Due to their popularity, round diamonds tend to be priced a bit higher than other shapes.
In some cases, you can save as much as 40% just by selecting a non round diamond for your engagement ring! Some additional shapes that are still very desirable are the princess cut, the cushion cut, the oval cut, the emerald cut, the pear cut, and the radiant cut.

Choosing a Precious Metal
The most common engagement ring metals include: rose gold, yellow gold, white gold, and platinum. Platinum and white gold engagement rings tend to be the most popular choices at any given time. Rose gold is starting to become more popular. While white gold and platinum look very similar, platinum is much more durable and costs roughly 50% more.
The precious metal you choose will affect the overall style of the ring. To get an idea what your significant other might like, try looking at their favorite pieces of jewelry.

Consider a Vintage Look

While modern rings have a certain appeal, you shouldn't rule out going vintage. Some people really love history or vintage jewelry in general. Some people are in love with the style of certain decades or centuries. Choosing a vintage ring could speak more to your significant other's personality. Most vintage rings are one of a kind or have a strong romantic history. They may even cost a little less than something brand new!

Choosing Custom-Made Engagement Rings

If you want something that is truly unique, you may want to design your ring from scratch. Partner with a jewelry designer to develop something that truly speaks to you.

How to Figure Out Ring Size

It can be difficult to ask for a ring size without ruining the surprise, but it isn't impossible. The average woman has a ring size of 6 or 6.5. You will want to choose a larger ring if you are guessing. An easy way to check is to take one of her rings and have a professional jeweler size it for you. You can also trace the ring onto paper if you think she would notice something missing from her jewelry box. Don't worry if you guess incorrectly, as most people need to get their rings resized.

Protect Your Engagement Ring
Jewelry is always an investment and you should consider protection against damages. Jewelry insurance can help protect you if your homeowner's insurance doesn't. When you purchase your ring, talk to us about available engagement ring insurance policies and how they can help you.

To learn more about engagement rings or styles, please contact us directly, visit our website, our try out our style quiz. We will be happy to answer any lingering questions that you may have!